protoTRAK SLX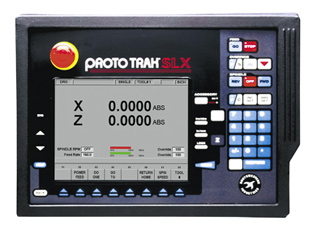 The ProtoTRAK SLX CNC combines the simplicity and flexibility of manual turning with the essential capability of CNCs for efficiency in small lot, toolroom work.
Available on the King Rich KRL flat bed lathes
Base Product
Even in its simplest and least expensive form, the ProtoTRAK SLX is a powerful CNC for toolroom work. Advanced technology blends with the easy, natural user interface that makes the ProtoTRAK the world's most popular CNC for small lot milling.
Advanced Features Option
If more advanced capability is important to you, the Advanced Features have productive routines such as Constant Surface Speed and Spreadsheet Editing. These advanced features are presented in the same, easy-to-use format as with the basic system.
Networking/Memory Option
Advanced program storage including networking helps you to organize, control and back up program files right from your CNC.
TRAKing Option
TRAKing extends the power of the CNC into the electronic handwheels, giving you complete control over your program feedrate. Crank one handwheel, and both axes move through the program at the speed you determine.
Features and specifications for the ProtoTRAK SLX CNC
(O) indicates optional feature
ProtoTRAK System Hardware
Two-axis CNC, two-axis DRO

Electronic handwheels for manual operation

10.4″ color active-matrix screen

Industrial-grade Pentium® processor

256 Mb Ram

P/S 2 Keyboard connector

2 USB connectors

RJ45 port and Ethernet card (O)

Override of program feedrate

Override of program spindle speed

LED status lights built into display

TEAC floppy drive

Gasket-sealed enclosures

Jogstick for convenient jog

256 Mb USB Thumb Drive flash memory (O)

Clean front panel with few hard keys
Software Features – General Operation
Clear, uncluttered screen display

Prompted data inputs

English language – no codes

Soft keys – change within context

Windows® operating system

Color graphics with adjustable views

Inch/mm selectable

Convenient modes of operation (see below)
DRO Mode Features
Incremental and absolute dimensions

Jog at rapid with override

Powerfeed X or Z

Tapers of any angle

Radius

Fillet

Go To dimensions (O)

Servo motor return to Home

Spindle speed setting with override

Tool offsets from library

Fine/course handwheel resolution (O)
Program Mode Features
Geometry-based programming

Event comments (O)

Incremental and absolute dimensions

Automatic tool nose radius compensation

Circular interpolation

Linear interpolation

Look -graphics with a single button push

List step – graphics with programmed events displayed

Alphanumeric program names

Conrad – one input for automatic corner radius programming

Chamfer – one input for automatic chamfer programming

Math helps with graphical interface

Auto load of math solutions

Subroutine repeat of programmed events

Nesting

Programmable spindle speeds

Program run time clock in Run Mode (O)

CSS (Constant Surface Speed) programming (O)

IPR (Inch per Revolution) programming (O)

Gang tooling (O)
Canned Cycles
Position

Drill

Bore

Turn

Arc

Cycle

Thread

Groove

Custom thread (O)

Tap (O)
Edit Mode Features
Delete events

Erase program

Spreadsheet editing (O)

Global data change (O)

Clipboard to copy events between programs (O)
Set Up Mode Features
Program diagnostics

Advanced tool library

Tool library file save

Icon-prompted tool setting

Tool offsets with modifiers

Single tool set-up

Gang tool set-up (O)

Indexer tool set-up (O)

Advanced diagnostic routines

Software travel limits

Tool path graphics with adjustable views

Program run time estimation clock
Run Mode Features
CAM file program run

Real time run graphics with tool icon

Countdown clock to next pause or tool change (O)

TRAKing of programs during program run (O)

Automatic indexing for tool change (O)

Gang tool operation (O)
Program In/Out Mode Features
Simple program storage to floppy

CAM program converter

Converter for prior-generation ProtoTRAK programs

DXF/DWG file converter (O)

Selection of file storage locations (O)

Automatic file back-up routine (O)

Preview graphics for unopened files (O)

Networking (O)
Advanced Features Option
Spreadsheet editing

Global data change

Clipboard to copy events to another program

Event comments

Program run time estimator

CSS (Constant Surface Speed) programming

IPR (Inch per Revolution) programming

Gang tooling

Additional Canned Cycles:

Custom thread

Tap
Networking/Memory Option
Directory/File/Folder Program organization

Automatic file back up routine

Preview Graphics for unopened files

USB Thumb Drive flash memory, 128 MB or more

Networking via RJ 45 port
The DXF File Converter Option
Import and convert CAD data into ProtoTRAK programs

DXF or DWG files

Chaining

Automatic Gap Closing

Layer control

Drawing Line Edit

Easy, prompted process you can do right at the machine
CAM Out Converter Option
Save ProtoTRAK files as CAM files for running on different controls
TRAKing/Electronic Handwheels Option
TRAKing of programs during program run

Go To Dimensions

Selectable Fine/Coarse handwheel resolution