protoTRAK EMX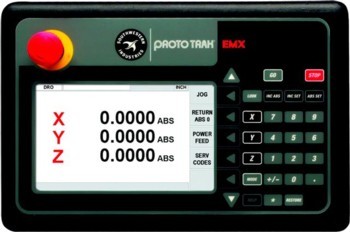 The ProtoTRAK EMX is great for first-time CNC users or for basic knee mill work.
Get it integrated into a King Rich Turret Mill
Essential features – minimal complexity.
The ProtoTRAK EMX has the features you really need to work productively using a knee mill, but leaves out features that make other CNCs more complicated.
ProtoTRAK EMX Specifications
Hardware
Digital Servo Amplifiers – custom designed for ProtoTRAK operation

D.C. Servo Motors – rated at 280 in-oz. continuous torque are twice that required

Precision Ball Screws – in the table and saddle

Modular Design – simplifies service and maximized uptime

115V/60HZ/8 amps

Feedrate Override of programmed feedrate and rapid

Polycarbonate Sealed Membrane Keypad to lock out contamination

7.0″ Color LCD with adjustable contrast

On board IDR flash memory storage for part programs

USB port for interface with a storage device

Rugged Industrial PC

Glass Scale on quill for Z-axis readout
Software
Diameter Cutter Compensation – allows programming of the part rather than the center of the tool path

Circular interpolation – makes arcs and any size hole easy to do with standard tools

Linear Interpolation – to machine lines at any angle

Conrad – provides automatic corner radius programming with one data input

Incremental and Absolute – programming can even be mixed within an event

Error Messages – to identify programming mistakes

Fault Messages – for system self-diagnostics

Parts Graphics display

Look – a single button press to view graphics during programming

Math Help – for finding points in a prompted format with graphical representation of prompts

Machine Tool Error Compensation and Backlash Compensation custom set on mill after installation

Selectable Inch/mm measurement readout

Jog of X and Y from 1 to 100 inches per minute

Continue Mill to eliminate repetitive data inputs while programming

Context help information provides explanations of ProtoTRAK EMX operations

CAM program converter

Teach-in of manual moves
Programming Canned Cycles
Posn/Drill – single point

Bolt Hole – series of points evenly spaced around a circle

Mill – straight line in any direction

Arc – any portion of a circle

Pocket – a rectangle or circle and all the material inside, includes finish cut

Frame – a perimeter of a rectangle or circle, includes finish cut

Repeat – of programmed events with or without offset

Rotate – of programmed events about the Z axis
Options
Remote Stop/Go (RSG) switch

USB Memory Stick